9 Nov
by admin
But why an S500? Three reasons: first, the S500 has always been the mainstream choice for people who weren't simply buying a diesel 'airport car'. Second, I'm this car's custodian and I've already had two S500s over the years. How interesting to investigate their differences and surprising similarities.
Third, for as long as 'S500' has been appearing on Mercedes bootlids, the variant's motive power has been a meaty V8, until now. This latest car has a new 3.0-litre turbocharged inline-six with a 48V integrated starter-generator (ISG) providing assistance and collecting braking energy.
How interesting to see whether the traditional S500 virtues – imperious smoothness and poke and no noise unless you really insist – are delivered by the new model.
In the UK, an S500L saloon starts at £86,330 on the road, which sounds pretty reasonable for what you get, especially since the only 500 you can buy gets AMG Line body bits to make it look more aggressive and sporty – and a lot less like an airport car. Egged on by contacts at Mercedes, we added a collection of extras that ended up costing just over £25,000 which, given that extras are traditionally high mark-up items for car makers, gives you a pretty clear view of where they make their money.
In summary, our gadgetry consists of four comprehensive option packs (Premium Plus, Driving Assistance, Executive equipment and Exclusive nappa leather) plus four individual options: night view (£2080), privacy glass (£345), Designo matt white paint (£3650) and intelligent rear belts (£995). The Premium Plus pack (£5395) adds stuff like soft-close doors, a mega hi-fi and a 360deg camera. The Driving Assistance pack (£1695) adds active distance control, steering, braking and blind-spot assist and a gizmo that will adjust your speed into bends. The Executive equipment (£4600) provides extra levels of comfort front and rear, plus stuff like roller-blinds for the rear window, and the Exclusive nappa leather pack (£6890) trims the big Mercedes in the best-looking materials available.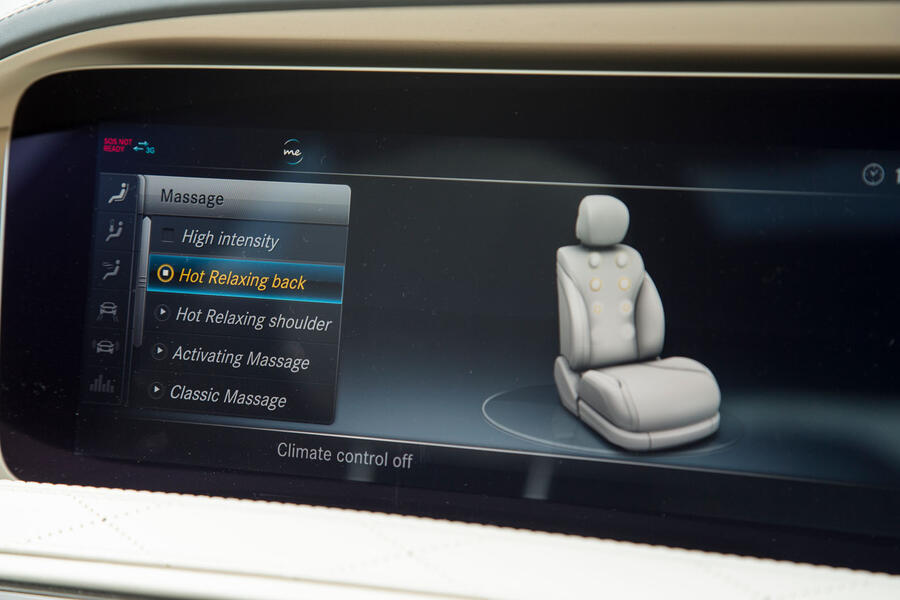 In short, our S-Class is a white car whose body addenda, 19in AMG wheels and white matt paint take it about as far away from the dreaded 'wedding car' look as it's possible to get, while preserving a limo-look that promises exactly what you get when you first set this car in motion: a class-topping luxury motoring experience.
The car hardly moves when you start it. Straight sixes are famously smooth, and the 48V ISG is large and powerful, so the usual 'ruh-ruh-ruh' just isn't there. There's silence, you press the start button and there's a distant hum, and you're hard-pressed to determine when one changed to the other. That's refinement, and it speaks for the way so many things operate in this car.
The power unit drives through a seamless nine-speed automatic gearbox. There are two regimes, Sport and Comfort, which vary how long lower ratios are held. There are paddles if you insist on changing gear yourself, but the decisions the 'box makes on its own are so flawless that you soon leave it to its own devices, except for one situation: you'll find yourself using the gears for engine braking on long hills. The ISG merrily garners braking energy on downgrades (there's a meter to show it happening) but there are times when you need more engine braking to slow two tonnes of kerb weight.
It's a big car. You have to take care with the generous front overhangs and with kerbing the rear wheels in tight corners. The S500 sighs about town almost as if it has no motive power at all, but the driver will always need to steer accurately, simply because it's nearly 5.3m long and occupies more road than most.
On arterial roads and motorways, it's marvellous. In Comfort, it has a spectacularly capable secondary ride that obliterates ripples and ruts while allowing some gentle body motion to gently signal its softness. The Sport setting gently reverses the position: the car is dead flat, in exchange for a minuscule increase in bump noise. You find yourself changing the setting according to your mood.
So far we've covered almost 1000 miles in the big Merc and the fuel mileage is running at about 34mpg. Much of that driving has been around town, but I have a feeling fast cruising is going to be this car's true metier. I'm already thinking of ways to give the S500 its head, and I know I'm going to enjoy it.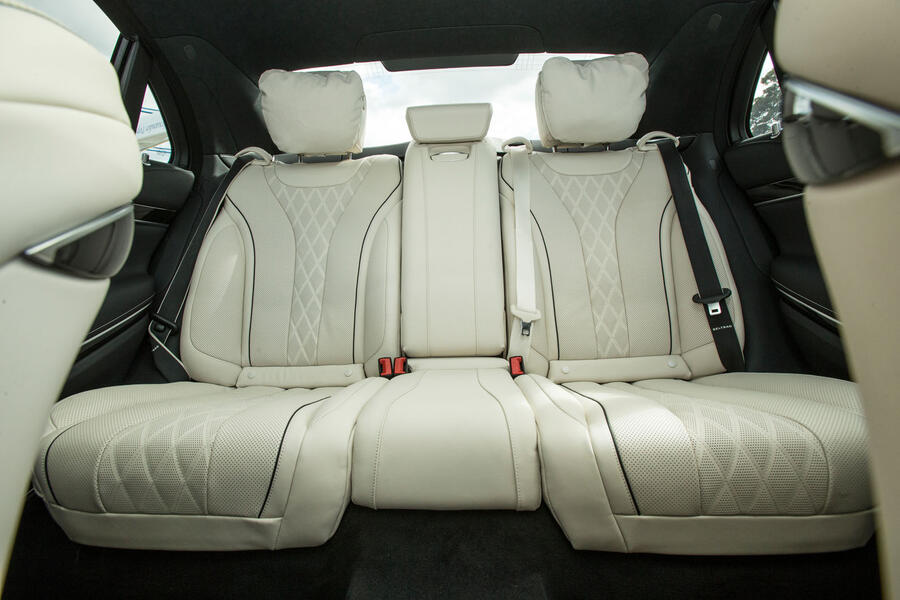 Second Opinion
No matter how well you might think you know the S-Class, it always manages to surprise and delight you with another bit of comfort, pace, drivability or refinement whenever you step into it. It's this ability to surprise that makes it not just a great car, but a truly special one.
Jim Holder
Mercedes-Benz S-Class S500L AMG-line specification
Specs: Price New £86,330 Price as tested £112,150 Options Premium Plus pack £5395, Driving Assistance pack £1695, Executive Equipment pack £4600, Exclusive Nappa Leather pack £6890, night view assist £2080, privacy glass £345, white paint £3650, intelligent rear belts £995
Test Data: Engine 2999cc, six-cylinder, turbocharged petrol w/ 48v starter-generator Power450bhp at 5250rpm Torque 516lb ft at 1800-3500rpm Kerb weight 2015kg Top speed 155mph (limited) 0-62mph 4.8sec Claimed fuel economy 38.2mpg Test Fuel economy 34.0mpg CO2208g/km Faults None Expenses None